Below are my 4 top favorite blogs (in no particular order) besides my family & friends. I haven't met any of these lovely ladies, but hope one day our paths will cross. If I see a new post from one of the following 4 blogs in my google reader these are the ones I read FIRST thing! I scan through my list of about 100 blogs to see who has posted first thing in the morning and go to my top 5.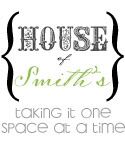 Shelley is the wonderful author of House of Smith's and a mother to 3 adorable little ladies. Shelley is just the sweetest person!!!! She has over 4500 followers on her blog and each time you comment she emails with a comment or a thank you. I have emailed her so many times and she always answers no matter how busy. I LOVE how she is transformering her house. I love all the white & beadboard

(a girl after my own heart)!

Shelley is the guilty party who got me hooked on white spraypaint

(sssshhhh don't tell Art who the guilty party is).

White spray paint makes EVERYTHING better!!!! I hope one day I get to actually meet her in person. Recently one of her twins hid the video camera under her bed in a shoe. Shelley was going crazy trying to find the camera to creat her first Vblog

(by the way it's a super cute vblog).
A Place for Us
is written by Destiny who has some of the best style for her home. She knows how to decorate her home on a budget. Destiny got me hooked on celery spray paint. I love celery spray paint for our master bedroom. She has 3 adorable little kids who are dressed as cute as they are! If you want to find some cute ideas while on a budget check out A Place for Us.
Michelle writes
Three Men and a Lady
and was my inspiration to paint a striped wall in my guest bedroom. I love how clean & simple she decorates her house. She is about ready to add another little boy her to house. I can't wait to see how she decorates the nursery.
Natasha writes
Samster Mommy
. Natasha is particially responsible for helping me pull my sewing machine out of the garage and starting my crafting bug. I found her blog one day and thought "hey, I can do that". Two years later I am still crafting away! I love the fact she is real about life as a mother of 2.